The Journal
As posted on Sheerluxe in January 2012.
As published in Metropolitan Mum 1st March '12 at http://www.metropolitanmum.co.uk/2012/03/ice-cream-and-pixie-dust/
As published on the Babyccino Kids Blog: http://babyccinokids.com/blog/2012/02/28/sweet-summery-sandals-from-papouelli/ I think we've decided we're officially allowed to talk about summery stuff now — after all, I've spotted the first snow drops and crocuses here in Amsterdam. These sweet butterfly sandals from Papouelli (formerly known as Papillon) are first on my list. […]
Junior Magazine, February 2012 http://www.juniormagazine.co.uk/fashion-news/a-match-made-in-fashion-heaven/11962.html: A girl can never have too many pairs of shoes, or indeed beautiful dresses, so the I Love Gorgeous pop up store at shoe shop Papillon sounds like music to any discerning fashionistas ears. Hosted by the Marylebone Lane London shop, the new spring I […]
A UNIQUE NEW NAME FOR A UNIQUE BRAND Once upon a time there was a Kingdom called PAPILLON – this beautiful land of high mountains, green valleys and waterfalls was the land of the Butterflies. This is a story about a particular little butterfly called Papouelli. Papouelli came from a […]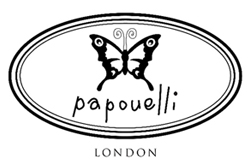 A UNIQUE NEW NAME… WE WOULD LIKE TO ANNOUNCE A SMALL NAME CHANGE AS FROM 1ST MARCH 2012 WHEN PAPILLON WILL EMERGE AS PAPOUELLI. ABSOLUTELY NOTHING ELSE ABOUT US WILL CHANGE, SAME SHOES, SAME LOGO, SAME OWNERS. THE REASON BEHIND THIS NAME CHANGE IS OUR INTERNATIONAL EXPANSION, AND A MORE […]
We have always loved ILoveGorgeous and are thrilled to have them open a pop-up in our Marylebone Lane flagship store. They will be with us from Thursday 9th February until Sunday 11th March. Do come and admire their utterly gorgeous new Spring collection. See the above photo where the models […]
The First Papillon Spooky Walk… On 31st October we held our first Spooky Walk at Papillon Elizabeth Street for trick or treaters. It was such a success that we will be holding this event annually to celebrate Halloween!
At our Marylebone store We are so excited to announce the opening of our Saturday Nailbar at our Marylebone store. Come and treat your child or yourself to an express nail session with one of London's best manicurist for £5. We have 15 fabulous colours to chose from, all non-toxic […]
Hair Accessories at Papillon We love our new hair accessories! Have a look at these bows and Alice bands, or check out the very cool elasticated bands. At the moment these are only sold in our stores.
We are thrilled to have been awarded the Junior Footwear Design Prize 2011. american cash advance