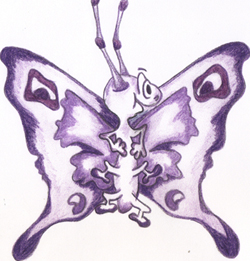 A UNIQUE NEW NAME FOR A UNIQUE BRAND
Once upon a time there was a Kingdom called PAPILLON – this beautiful land of high mountains, green valleys and waterfalls was the land of the Butterflies.
This is a story about a particular little butterfly called Papouelli.
Papouelli came from a large family – he had 9 brothers and 4 sisters and he was the youngest.
They lived happily, if a little squashed in The Middle Hollow, The Large Oak Tree, Blackberry Common.
Papouelli was teased all the time by his older brothers and sisters as he had very small wings (sort of purple) and he had very, very small feet – you might think that butterflies do not have feet – but they do, 6 to be precise. These little feet stick out underneath them. It made life so much easier when they landed on flowers or leaves.
One week in early summer The Shoemaker made his annual visit to the town. Butterflies as you may know do not wear clothes and so shoes were the most highly prized and important things.
The Shoemaker set up shop in the market square and took orders from the rich and beautiful butterflies for pairs of
golden and silken shoes made of the finest leathers with suede 'landing soles'. Suede is better than leather on the bottom of butterfly shoes and it is less slippery when they land on petals and leaves.
Papouelli was fascinated each year by the Shoemaker. He was always handed down his brothers' and embarrassingly sometimes his sisters' shoes. He hated it. They never fitted very well, were uncomfortable – and never ever beautiful. All he wished for was his own pair of shoes.
Papouelli went everyday to The Square to watch the master shoe maker at work. After a few days he asked if he could help and as the weeks went by he swept up the leather scraps and sole cuttings, picked up threads and laces. Soon he was allowed to help cut the patterns and began stitching feathers and buckles to the most expensive and beautiful shoes.
The Shoemaker was so impressed by this young butterfly he decided to make Papouelli his own special pair of shoes as a surprise present – he worked in secret after Papouelli had gone home and made a pair in deep purple suede with red feathers, a golden heel and a turquoise suede 'landing sole'.
He presented them to Papouelli on his last day in a large pale green box with his name written in brown on the front.
"Papouelli these are for you – one day when you grow up you will become a truly talented shoemaker"
As you can imagine Papouelli was overjoyed – his OWN pair of shoes and what a magnificent pair at that – Papouelli decided from that day forward that he would have a shop that made beautiful wonderful shoes for children and it would be called PAPOUELLI after him.