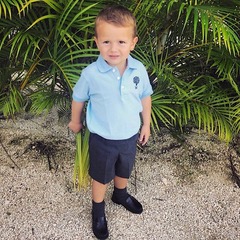 As many of you are aware, Hurricane Dorian tore through the islands of the Bahamas this month.  With winds gusting up to 220 mph this was the largest storm on record in the Caribbean.  60,000 people have been effected with 6,000 being evacuated to the mainland who have lost everything they own.  Children are living in gymnasiums, churches and hurricane shelters.  Schooling is being sought for these evacuees this week but they will need uniform and shoes going forward.  A Bahamian friend is working closely on the ground to help find gently used black school shoes for all ages and sizes. Shoes are often expensive so a luxury for many families.
Papouelli have volunteered to take in any of your old BLACK school shoes you wish to donate. We will collect them at each of our stores until Monday 14 October 2019. We then have someone leaving from London going back to the Bahamas and will take the shoes we have collected.
We would ask that you only donate good quality shoes, and shoes that don't need to be re-soled. If they have been polished all the better, if not, I'm sure we can give them a little polish with our best seller Renapur.
This is very much a feet on the ground initiative and it is for this reason we chose Team Fox Bahamas as our winner for the Back to School giveaway.