The Journal
Please join us for our Papoooooooelli Spooky Walk in our Elizabeth Street shop, from 5 until 7.30pm on Halloween Wednesday!
Did you know there is a really fun vintage market at the top end of Marylebone High Street, every Saturday, along with a fantastic farmers market. Do come and pay us a visit afterwards to check whether your child's feet have grown. On Sunday 17th June, we also have the […]
Year 4 Boys Shoe Project We are so pleased to have the boys from Year 4 at Wetherby Prep School make a beautiful display again for our window with their shoe designs. This time we have an exhbition inside our shop, as well as shoes hanging in our Marylebone Lane […]
Oopsy Daisy Baby These adorable frou frou skirts are our latest love. We now sell them in our shops. The perfect present for a baby or goddaughter, any little girl will be so happy to wear these frilly skirts.. www.oopsydaisybaby.nl
A UNIQUE NEW NAME FOR A UNIQUE BRAND Once upon a time there was a Kingdom called PAPILLON – this beautiful land of high mountains, green valleys and waterfalls was the land of the Butterflies. This is a story about a particular little butterfly called Papouelli. Papouelli came from a […]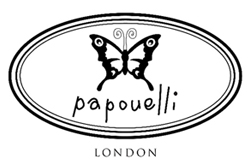 A UNIQUE NEW NAME… WE WOULD LIKE TO ANNOUNCE A SMALL NAME CHANGE AS FROM 1ST MARCH 2012 WHEN PAPILLON WILL EMERGE AS PAPOUELLI. ABSOLUTELY NOTHING ELSE ABOUT US WILL CHANGE, SAME SHOES, SAME LOGO, SAME OWNERS. THE REASON BEHIND THIS NAME CHANGE IS OUR INTERNATIONAL EXPANSION, AND A MORE […]
We have always loved ILoveGorgeous and are thrilled to have them open a pop-up in our Marylebone Lane flagship store. They will be with us from Thursday 9th February until Sunday 11th March. Do come and admire their utterly gorgeous new Spring collection. See the above photo where the models […]
The First Papillon Spooky Walk… On 31st October we held our first Spooky Walk at Papillon Elizabeth Street for trick or treaters. It was such a success that we will be holding this event annually to celebrate Halloween!
At our Marylebone store We are so excited to announce the opening of our Saturday Nailbar at our Marylebone store. Come and treat your child or yourself to an express nail session with one of London's best manicurist for £5. We have 15 fabulous colours to chose from, all non-toxic […]
Hair Accessories at Papillon We love our new hair accessories! Have a look at these bows and Alice bands, or check out the very cool elasticated bands. At the moment these are only sold in our stores.
We are thrilled to have been awarded the Junior Footwear Design Prize 2011. american cash advance