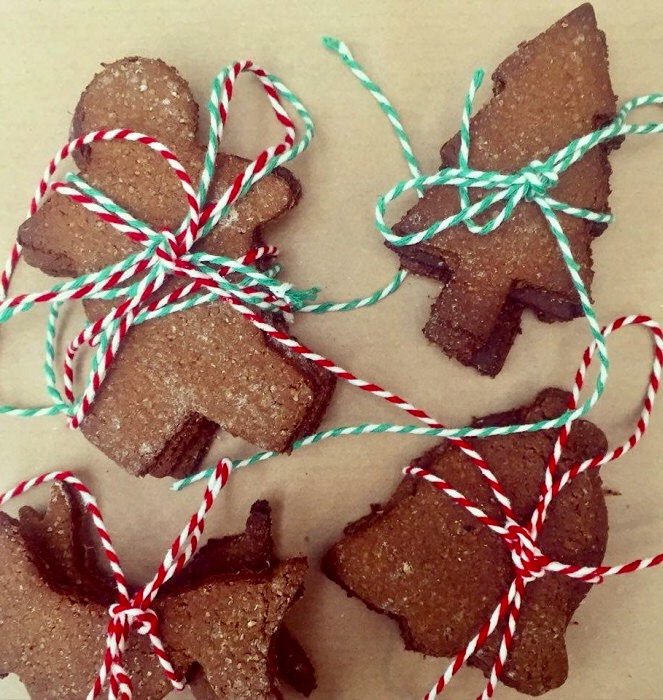 This month we are delighted to have Isabella Robinson aka Goodness Guru writing up two of her favourite Christmas recipes for Papouelli. Isa, is all about delicious food, but without the sugar. We've had her yummy treats, and they are super super delicious , so get baking, and let us know what you think.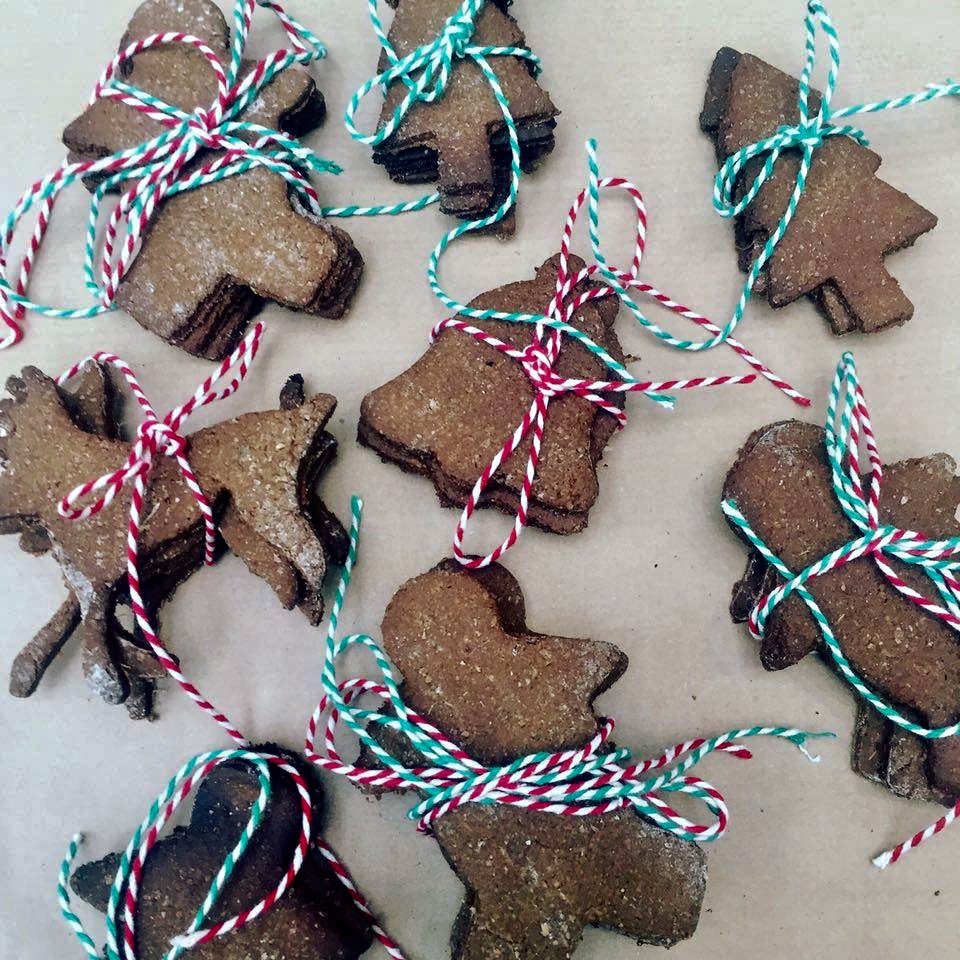 A Merry little Christmas for merry little tummies!
With the Christmas season in full swing, it's time to indulge in festive favourites.
Popping open chocolate advent calendars, mulled wine and mince pies are all part and parcel of the season, but they aren't always the most nutritious. To help your little ones have a Merry little Christmas this year, I've developed two special recipes with clever tweaks and twists to help reduce sugar and saturated fats, whilst keeping
everyone happy. I hope you love them.
Spelt Gingerbread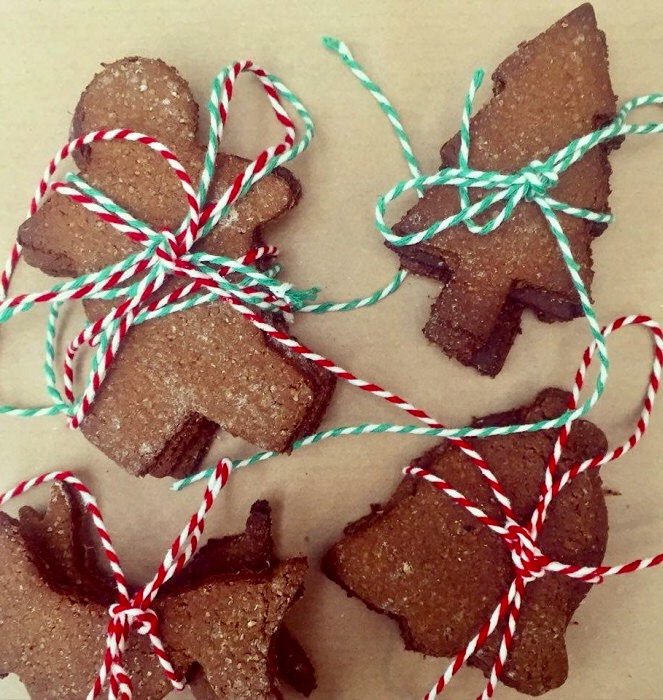 A healthy version of the classic gingerbread men! These are made with spelt, a low gluten flour, coconut oil for healthy fats, and black strap molasses.
Black strap molasses is very similar to treacle – both are a by product of processing sugar which is removed before it becomes the crystallised white stuff. Black strap molasses differs to treacle because they are removed from the processing earlier. However, they still maintain a dark and sticky quality that's perfect for baking gingerbread. Black strap molasses also has a lower GI, so won't spike your blood sugar levels as dramatically as other options.
Ingredients
• 2 cups spelt flour
1/2 cup ground almonds
1/2 tsp baking powder
2 tsp ground ginger
2 tsp ground cinnamon
1 tsp vanilla essence
1 egg
1/3 cup melted coconut oil.
1/4 cup pure maple syrup
2 tbsp blackstrap molasses
Pinch salt
Method
Pre heat your oven to 150° and line a baking tray with grease proof paper – you'll need 2-3 trays.
Add the spelt flour, ground almonds, baking powder, ginger, cinnamon and salt to a bowl and stir.
In a separate bowl add the vanilla, egg, coconut oil, maple syrup and black strap molasses.
Pour the wet mix into the dry mix and stir or use your hands to form a sticky dough. Wrap in cling film and chill in the fridge for at least 1 hour.
Turn the dough out on to a well-floured surface, you'll need lots of flour for this as the dough is very sticky.
Roll and cut your gingerbread shapes placing them on the baking trays. The thinner the crispier!
Bake in the oven for 15-20 minutes until crunchy.
I haven't decorated mine but I can imagine they'd be great with a whole host of healthy and less healthy ideas.
Christmas Crumble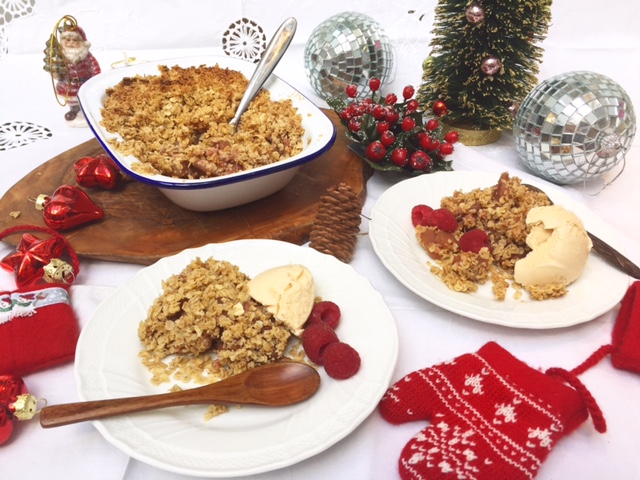 Few things are as warm and comforting as crumble. It is in my opinion one of the best British puddings, made best when using local and seasonal apples with rolled oats for golden crispy topping. My take on the classic uses festive mulled spices that will have you singing Hark the Herald angel sing round the kitchen. To healthify the more traditional calorie dense crumble, I've swapped regular sugar and butter for coconut oil and coconut sugar. I don't think you'll even notice the difference.
Ingredients
• X6 granny smith apples
• 100g raspberries
• 3 tbsps coconut sugar
• 2 tsps ground cinnamon
• 3/4s cup water
• 3 gratings of fresh nutmeg
• 2 pods cardamom
• 1 star anise
• ½ tsp ground ginger
• 3 cloves
• 135g oats
• 25g maple syrup
• 40g coconut oil
Method
Preheat the oven to 180°C.
Wash peel, core and chop the apple into bitesize pieces.
Add the apple to a saucepan with the water, 1 tbsp coconut sugar, spices and the raspberries. Cover and simmer on a low heat for about 10 minutes, until the apple is soft and starting to break down.
To make the crumble; Mix the oats, melted coconut oil and maple syrup.
Remove the star anise from the crumble mix, as well as the cloves and
cardamom.
Add the spice infused stewed apple to a large oven proof bowl and top with the
crumble mixture. Bake in the oven for approximately 15 minutes until golden
brown. Serve with optional Greek yoghurt or coconut yoghurt.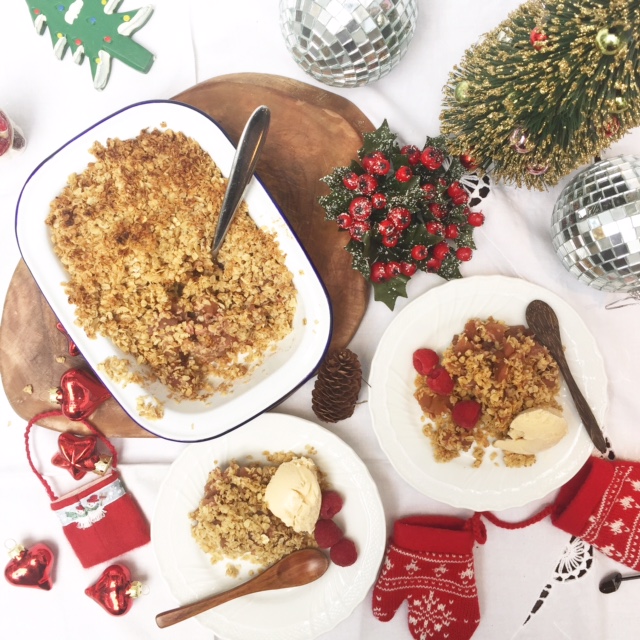 More healthy recipes from Goodness Guru can be found on her blog or Instagram www.goodnessguru.co.uk @goodnessguru