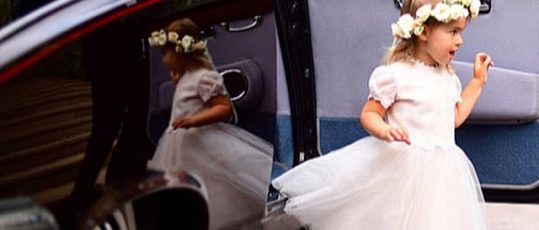 Did you know New Year's Eve is the time of year most people propose? I guess you do if you just said yes!
So now you are in the throes of wedding plans and it is as exhilarating and overwhelming at the same time. Thinking about the big day and the look you want to achieve is about details.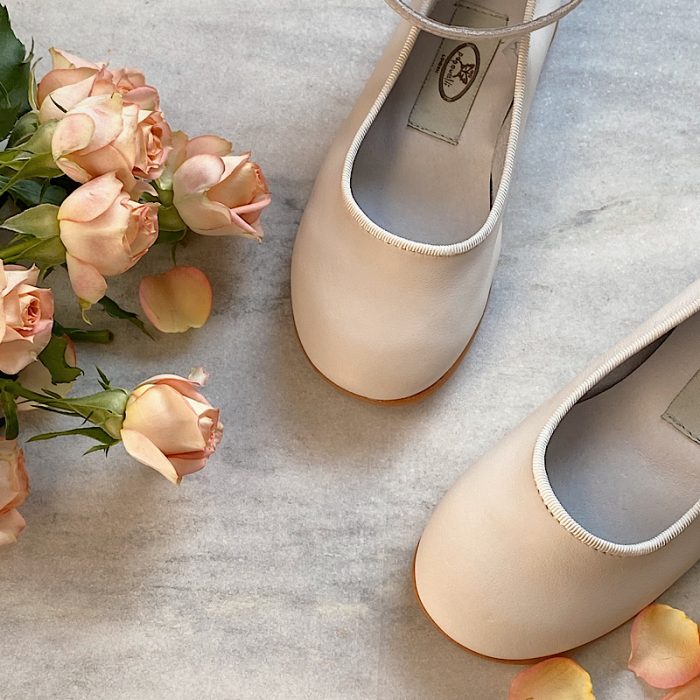 At Papouelli, we are all about the little details. We have grown and tweaked our bridal shoe collection over the years, according to what our customers have wanted.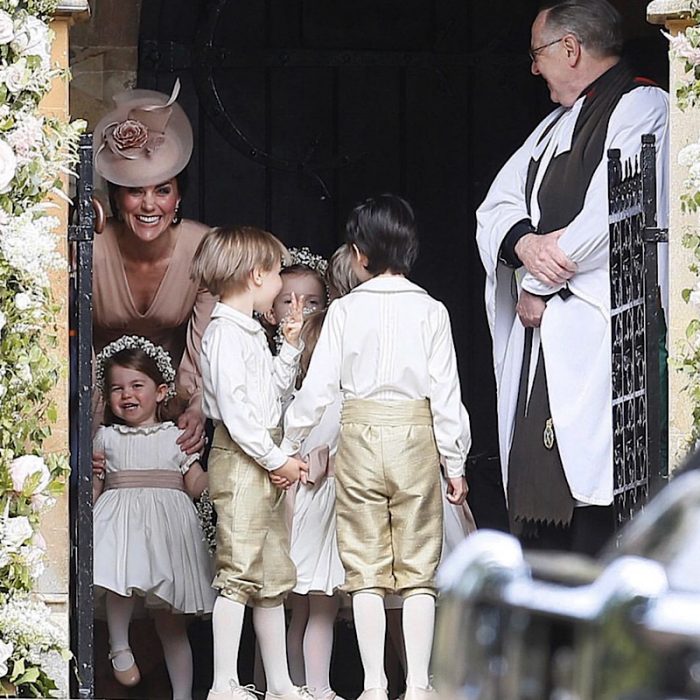 We have been lucky enough to fit little feet for Royal weddings, big weddings, small weddings, beach weddings, country weddings and we have fitted little princesses, and many a little royal foot.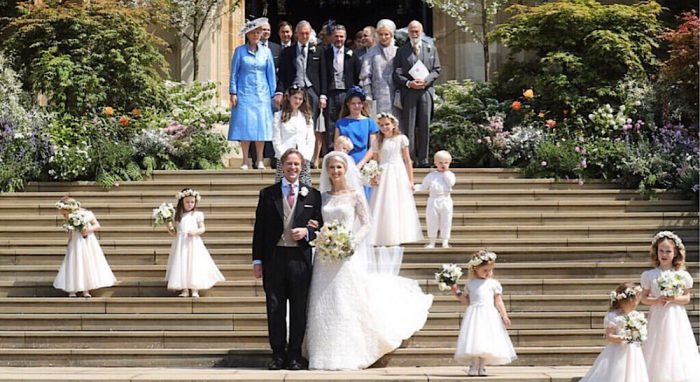 For each child, the role of a page boy, bridesmaid, flower girl or ring bearer is exciting and for some it is a total dream. The last thing they want to worry about is their shoes as they make their own entrance. You want them to be as comfortable as possible, whilst fitting into your vision.
Last year we were particularly thrilled to have our shoes on display at Windsor Castle as part of Princess Eugene's Royal Wedding display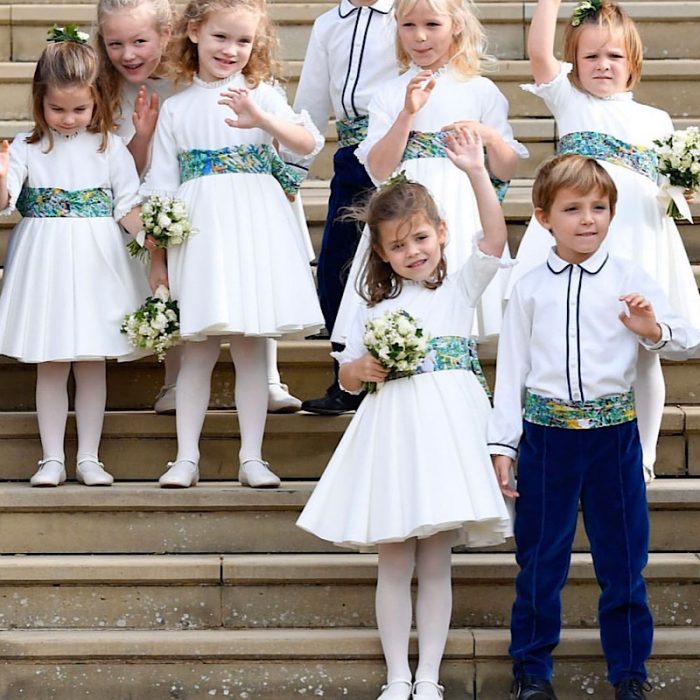 As well as offering a bespoke service, we have a selection of contemporary, traditional and delicate shoes. You could be after a metallic shoe, or you may be getting married on a beach and prefer a colour co-ordinated look. Many of our shoes are totally unisex so you can think about one style all the way through your colour scheme.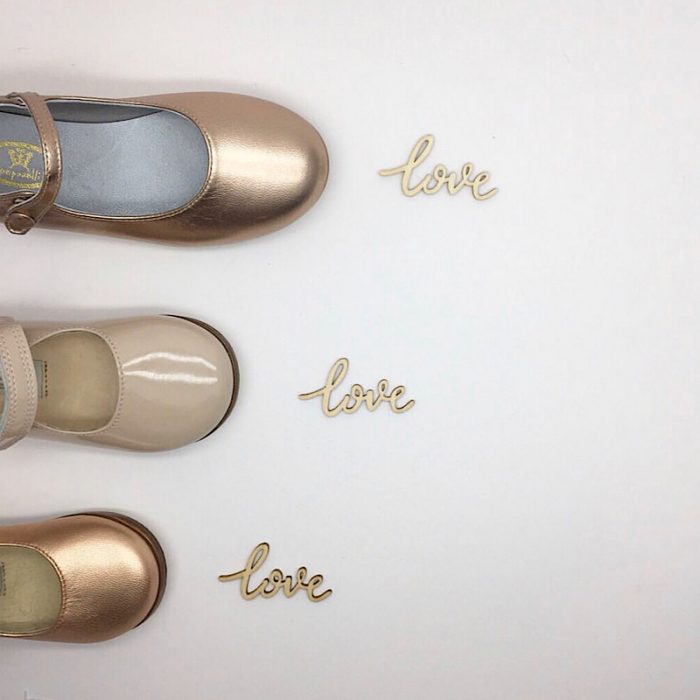 Our sizing goes from tiny to teen. Younger sizing starts at a 21 and goes to a 36 for a contemporary shoe.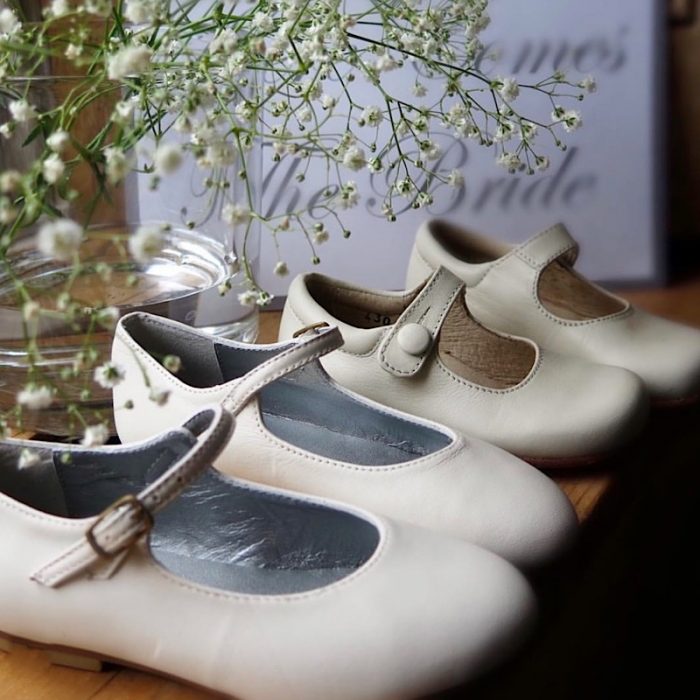 Teens often want a ballet flat (Missi) or a structured loafer (Olive) and their sizing starts at 30 and goes up to a 41.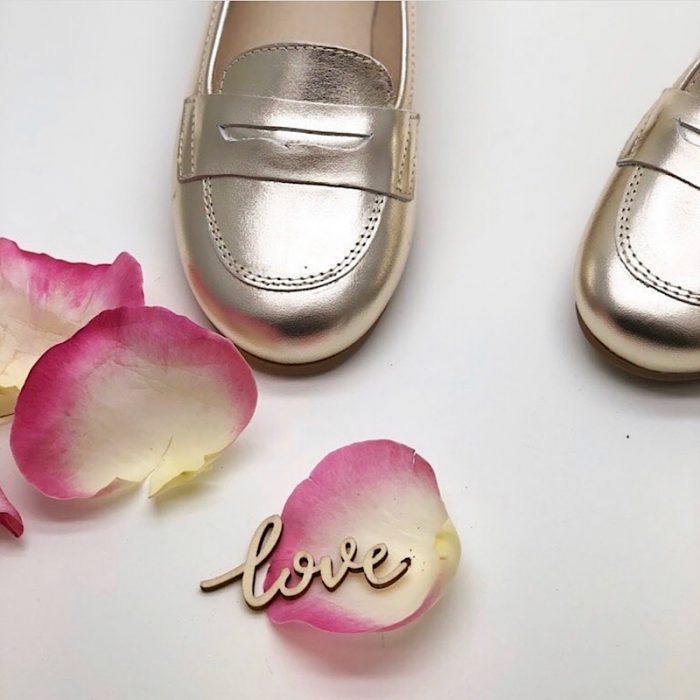 The more casual shoe (Darcie) offers a rainbow of colours from 21-41 for the most colourful feet or we have delicate white broderie anglaise.
Page boys, ring bearers may prefer a more traditional shoe. We offer two options; The Otis (sizes 22-33) with a buckle.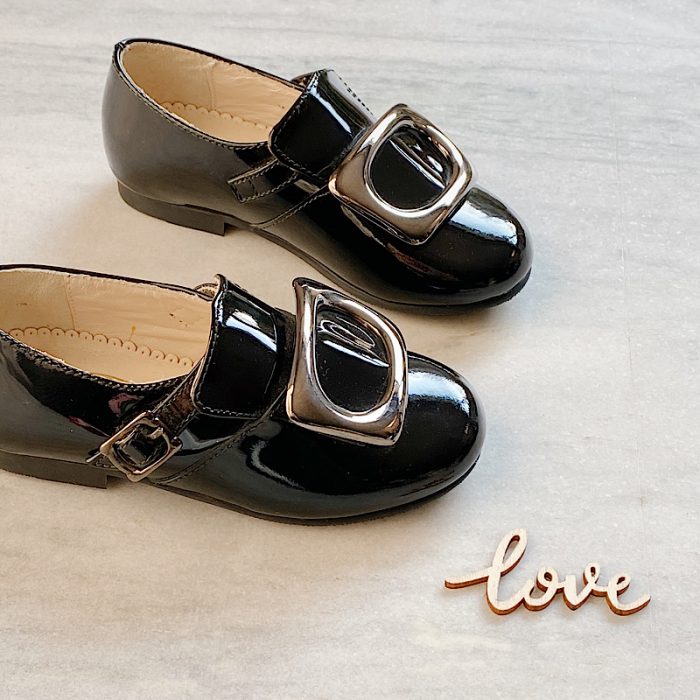 or the Larker shoe that comes in black patent, cream and navy blue leather (sizes 21-34). Our Barnie and Felix loafer come in a selection of colours (and sizes 22-40) that can tone with any colour scheme.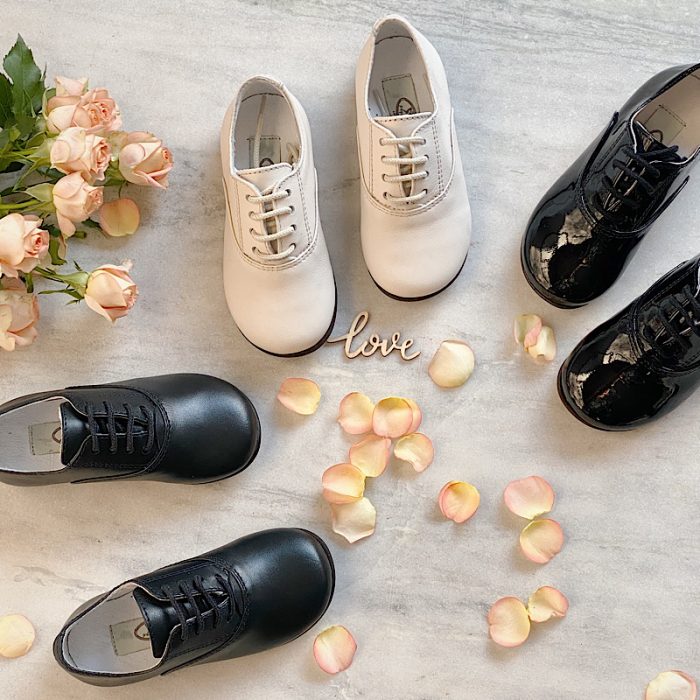 Whatever your colour scheme, or style please feel free to email us with any questions, or if you would like to come in and see someone for a bespoke meeting to see our bridal collection email Nicole@papouelli.com
The Papouelli wedding directory:
These are brands that we have worked with and some brands whose work we particularly love, and are longing to work with. We wanted to share them with you to help you make your day even more special and memorable.
Outfits for little people:
Nicky MacFarlane | Nicky MacFarlane
Little Bevan | Little Bevan
Photographer:
Claire Menary | Claire Menary
Flowers:
Rob Van Helden | Rob Van Helden
Jam Jar Flowers | Jam Jar Flowers
Jewellery & special gifts:
Cassandra Goad | Cassandra Goad
Anya Hindmarch | Bespoke leather gifts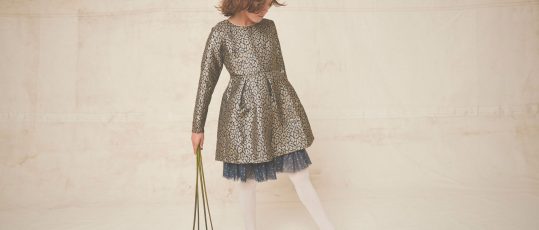 Every year we try and give you all a few ideas for Christmas. Maybe you have family visiting, maybe we highlight one thing you haven't heard of, either way we wanted to share with your what our picks are this year in London for 2019.
Ready steady GO… who is on for a race? We have the best one to start the crazy Christmas season; head for Covent Garden on Saturday 7 December 11-1pm for the great Christmas pudding race, and watch the teams compete, whilst raising money for Cancer Research.
Christmas isn't Christmas without The Snowman at the Peacock Theatre. A staple in our children's childhood. A tradition that is so easy to pass down year after year after year.
Charlie and the Chocolate Factory: If you want an afternoon tea with a godchild or maybe your godchildren, take them for an afternoon tea at One Aldwych for a Charlie and the Chocolate Factory themed tea.
Fortnum and Mason have storytelling with Father Christmas. Then head downstairs for the tastiest Christmas treats in London.
Neighbourhood Cinema has a variety of Christmas themed films this year. Take your pick or book the ROH screenings of Coppélia or Sleeping Beauty.
David Walliams brings his Billionaire Boy to the stage for the first time. This absolutely ticks the box for fun, magic and humour, or with older one see The Lion, The Witch and The Wardrobe at The Bridge Theatre.
Hogwarts in the Snow. Harry Potter studio tours are pure magic. Take your child on one of the greatest studio tours in the UK. Located just an hour from London at the Warner Studios.
Fancy an old-fashioned Christmas Fayre – well who doesn't love a festive fayre? Find it 6-8 December at Hampton Court Palace. Home of Henry VIII and a maze to lose your children if the season becomes too much – just kidding!
One of our customers recommended a beautiful exhibition downstairs at Japan House in Kensington. WOW City Lights and Woodland Shade, allow you to put your face on a traditional Japanese doll. There is also a wonderful interactive wall where you to build trees for birds to hop onto. Suitable for age 6 and under. It is utterly charming and free.
Finally remember that Elizabeth Street have their Christmas Fair on Sunday 1 December, and in Marylebone, our evening is 5 December. Do pop along and see us. You may even find an Elf in the shop!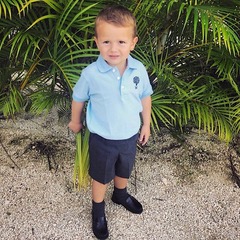 As many of you are aware, Hurricane Dorian tore through the islands of the Bahamas this month.  With winds gusting up to 220 mph this was the largest storm on record in the Caribbean.  60,000 people have been effected with 6,000 being evacuated to the mainland who have lost everything they own.  Children are living in gymnasiums, churches and hurricane shelters.  Schooling is being sought for these evacuees this week but they will need uniform and shoes going forward.  A Bahamian friend is working closely on the ground to help find gently used black school shoes for all ages and sizes. Shoes are often expensive so a luxury for many families.
Papouelli have volunteered to take in any of your old BLACK school shoes you wish to donate. We will collect them at each of our stores until Monday 14 October 2019. We then have someone leaving from London going back to the Bahamas and will take the shoes we have collected.
We would ask that you only donate good quality shoes, and shoes that don't need to be re-soled. If they have been polished all the better, if not, I'm sure we can give them a little polish with our best seller Renapur.
This is very much a feet on the ground initiative and it is for this reason we chose Team Fox Bahamas as our winner for the Back to School giveaway.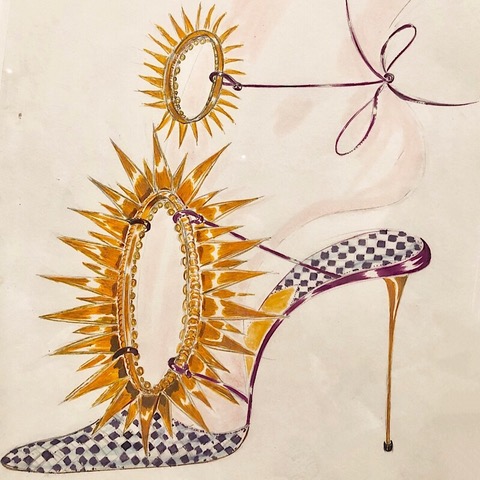 Situated around the corner from our Marylebone Lane shop is the exquisite Wallace Collection. It is a hidden gem, that was once the home of Lord and Lady Wallace. It is also home of one of England's finest collections of 18th Century art, old masters and one of the most incredible collections of arms and armour we have ever come across.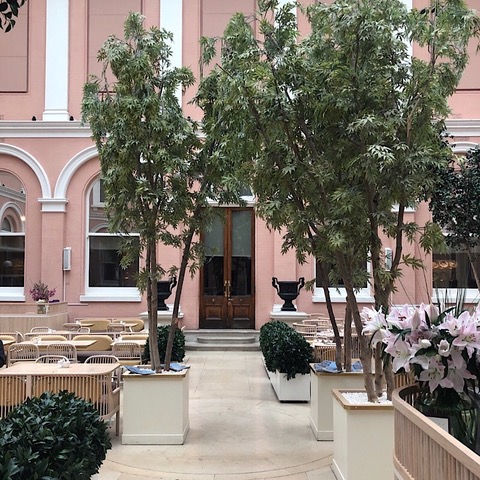 Obviously, we are obsessed with shoes, and over the summer we enjoyed the stunning exhibition, An Enquiring Mind by Manolo Blahnik. The King of shoes design and a genuine design inspiration, we were so happy to see that the exhibition has now been extended to the end of October.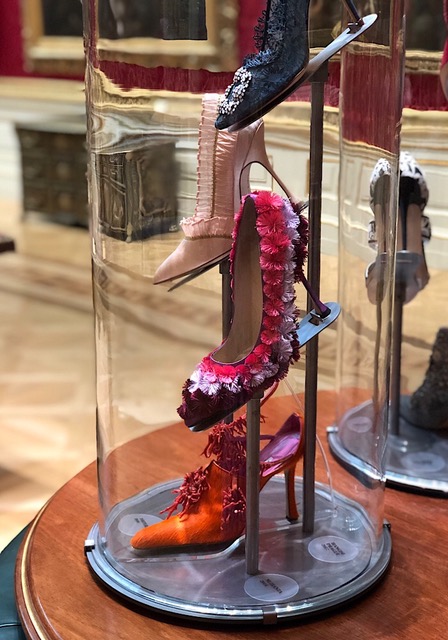 Little ones will love the map of discovering the shoes, blended seamlessly into rooms in some cases and in front of stunning Fragonard's in others, there is even a Mrs Robinson – find that painting and those shoes! It is the details of his shoes, the original designs that is such a treat to see up close. Many of the shoes on show are from films and from Blahnik's archive, it is like a Cinderella moment… each one would make you very happy if they fitted.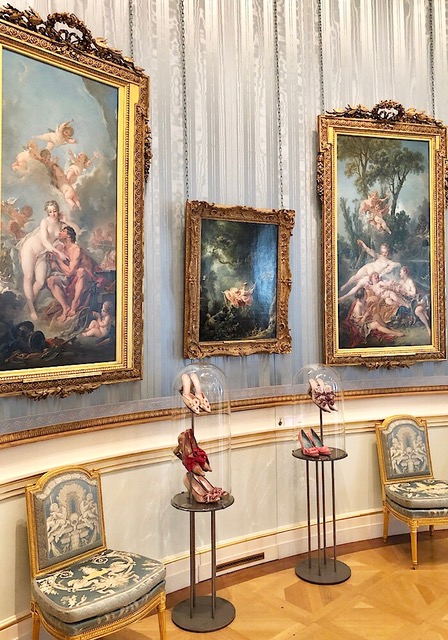 Downstairs discover the extraordinary rooms of arms and armour at the back of the museum and look in wonder at what the size and beauty of the collection. It is worth noting that we have never seen a collection like it anywhere in London. Our 20yr old wandered around asking why he hadn't been here before, he was totally engrossed in the history and the details. Do not leave without taking in the stunning café. It's pink, it's beautiful, and you may not want to leave!
An Enquiring
Mind runs until 27 October 2019
Entry is free.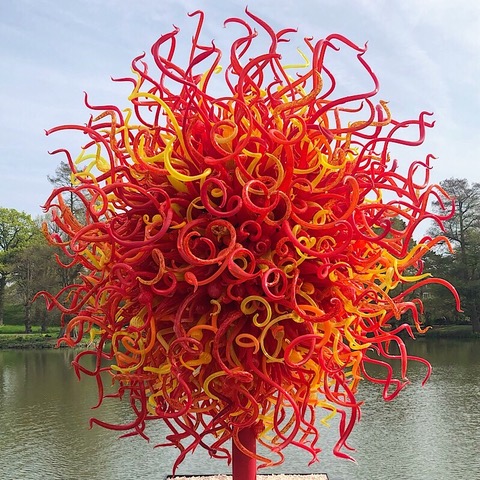 Half term is around the corner, so if you aren't revising for exams, isn't it more productive to have planned something to get up and out for – especially if you are in London. We wanted to share with you our favourite ideas for some summer fun with children. Whether it is a weekend, half term, or summer holidays, there is something here for everyone.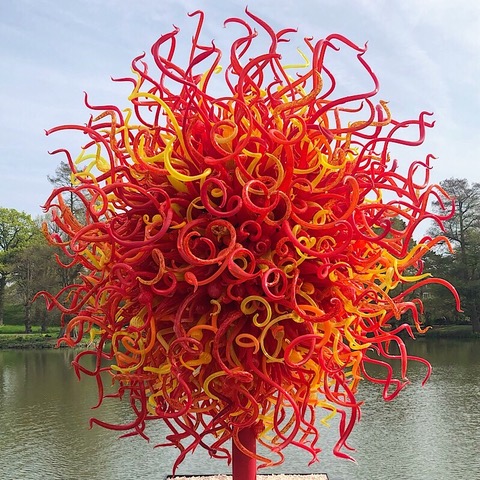 In no particular order here are 5 fabulous bits of fun, and remember if you are out wearing your Papouelli shoes, please tag us @papouelli and use #mypapouellis for us to see.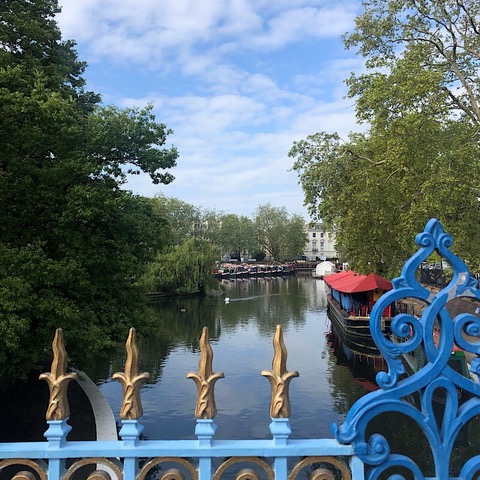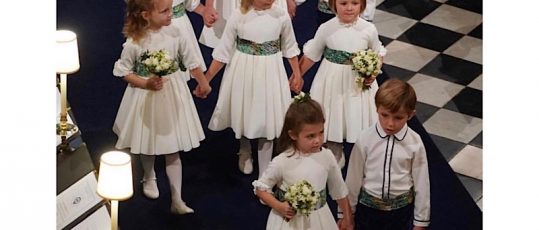 Until Monday 22nd April 2019 Windsor Castle have created an exhibition to display some of the key outfits from the wedding of HRH Princess Eugenie to Jack Brooksbank. Princess Eugenie's beautiful wedding dress, her tiara, down to the little pages and bridesmaids, and their Papouelli shoes. We were thrilled to have been asked to provide all the bridesmaids shoes.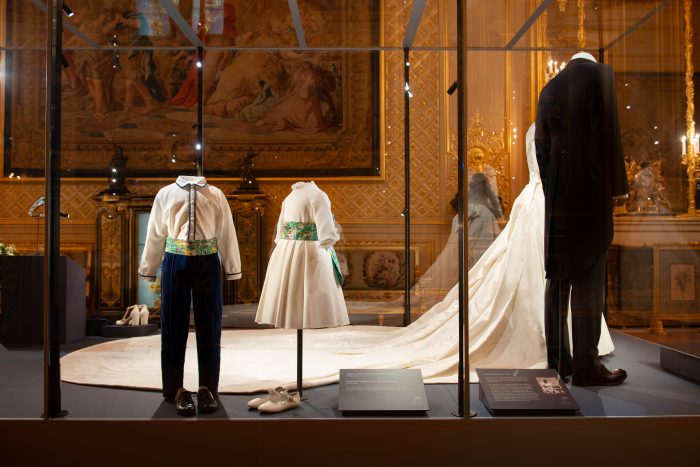 Therefore we have enlisted the help of our favourite London blogger Little London Whispers to create a Day Out in Windsor, home to the Queen's favourite residence for you and your little ones.
Esquires: A lovely cafe on the high street. Perfect for coffee & a croissant. Time it well and you can watch the changing of the guard from here. You may not see everything, but you do sit opposite the 'famous' crooked house and watch it all with a coffee and a view.
Coffee in Windsor
Culture in Windsor
Built in the 11th Century, and founded by William the Conqueror, it is the oldest Royal residence and has been home to 39 monarchs. You need a good few hours – we took 4, to even scratch the surface. Alongside the exhibition, you have the State Apartments and St George's Chapel to cover. All of it stunning, so don't miss them.
Note: Queen Mary's Dolls' House is closed for refurbishment
If the girls get the tiara's and pretty dresses, the boys get the guns, swords of battle, and see if they can find the bullet that killed Lord Nelson from the Battle of Waterloo – I mean really!!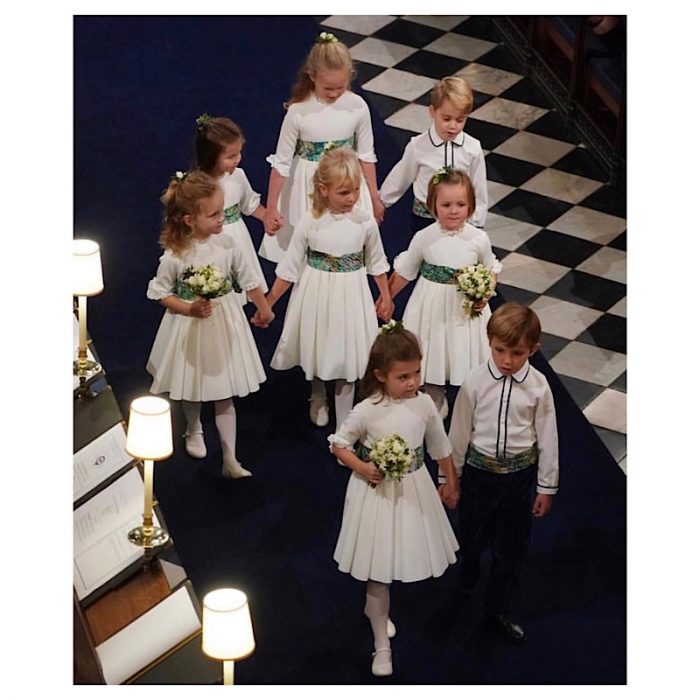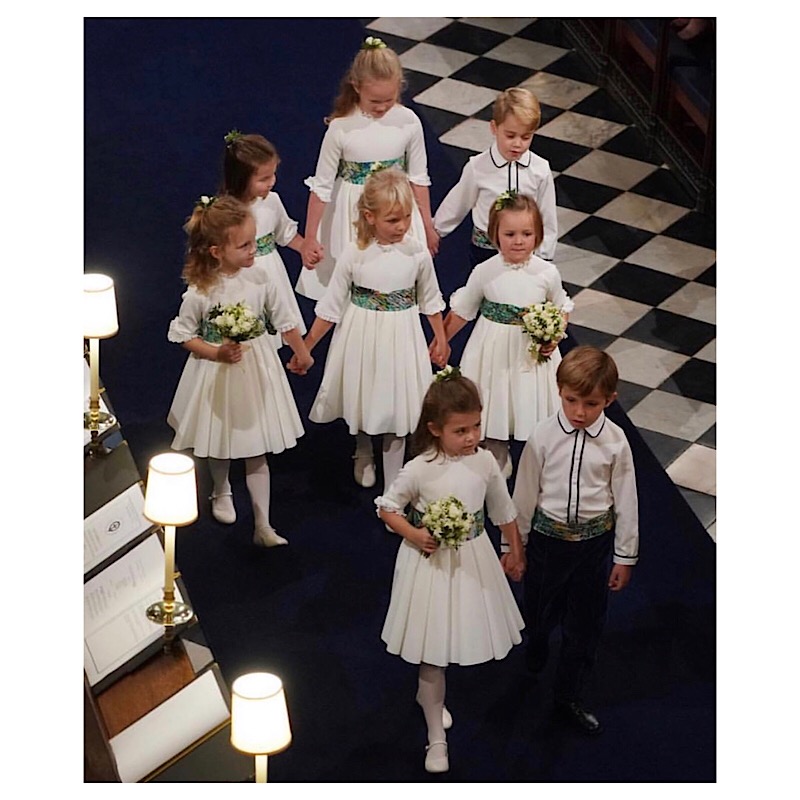 Eating in Windsor
Trying to find and support a local business was hard. Instead we opted for Cote Brasserie . It has an amazing location right on the river, near the bridge going into Eton. The perfect place for lunch and watch all those Royal swans swanning around.
Snacking in the Castle
Make the effort to stop for ice cream. It was delicious. It was better than delicious, it was mouth-wateringly good. Full of flavour, the strawberry ice cream had frozen strawberries in it!
Fresh air in Windsor
Windsor Great Park and the Long Walk. There's nowhere like it, the view, the beauty and if you are lucky you will spot some deer and quite possibly the Queen. Further afield is Dorney Lake. Home to Olympic rowing – only if you go by car is it worth the detour.
LLW tips:
Go by train. It arrives straight into the centre of town. We drove because we wanted to drive the Royal route & got a spot in the centre of town. Either way, get there early to avoid the very long queues into the castle, which can be long if going in peak season.
Have a big breakfast, & take a small packed lunch for the castle, keeping room for the ice cream. If you take as long as us, it just helps you to keep going.
Do the audio guide in the castle. They are adaptable for adults, kids, families. Bursting at the flags with information, they are an absolute must.
Be sure to ask all the guides lots of questions – they know everything there is to know about the castle, and often reveal little secrets!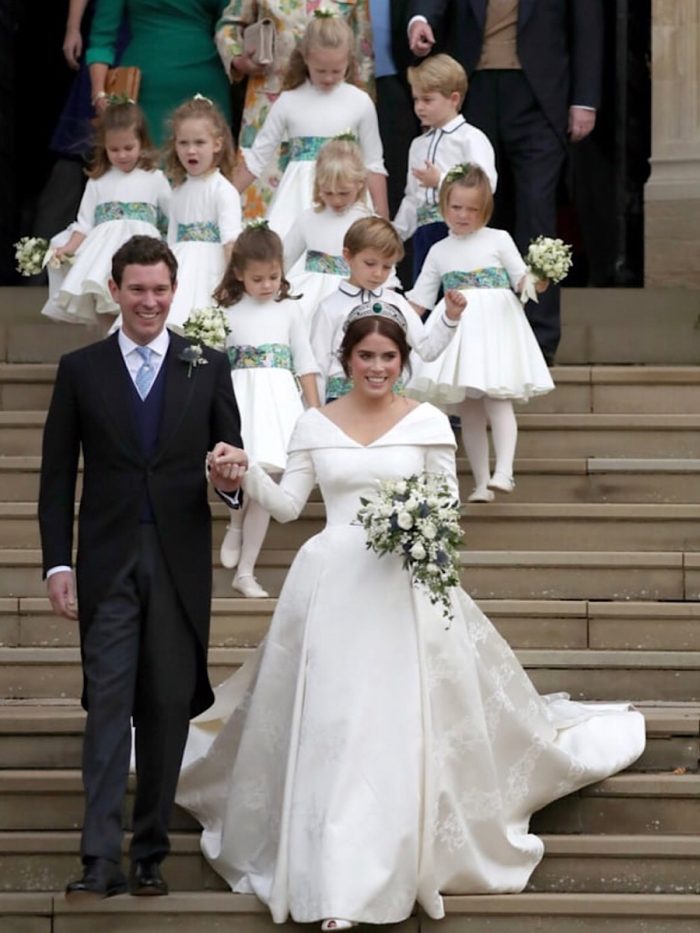 Exhibition to HRH Princess Eugenie & Jack's Wedding. Details HERE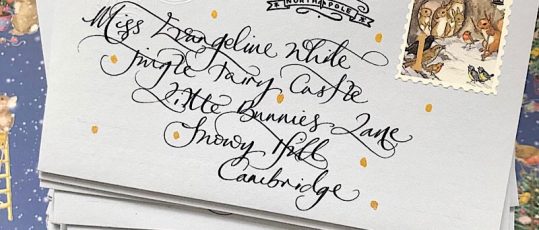 There is always a special kind of magic about Christmas in any child's life. We thought we would share four of our favourite finds in London this Christmas.
Our first, is a beautiful company who caught our eye a couple of years ago, called Polar Post.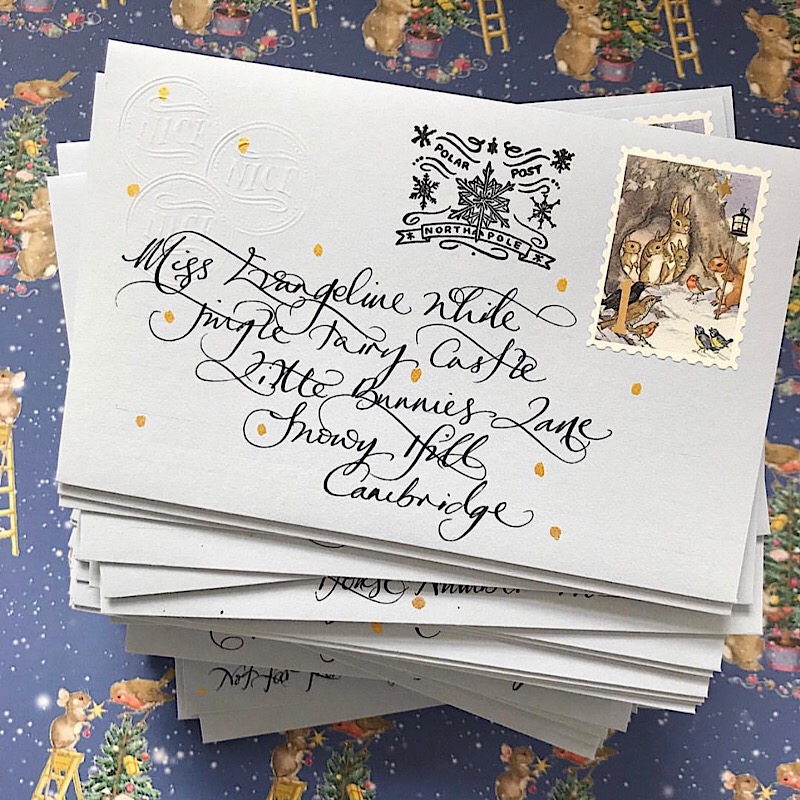 Polar Post send letters to and from Father Christmas at the North Pole. Let your child believe in the magic that Father Christmas brings. Beautifully scripted letters arrive addressed to your child for Christmas morning. The whole package is just heaven, and we fell in love the moment we found it. The sooner you do it, the sooner you get ahead of the Christmas rush. www.polarpost.co.uk
Our second is a fabulous new show called The Wider Earth at the Natural History Museum.
Whilst you may be going to see Hope the Whale, or a little bit of ice skating around South Kensington's most famous ice rink, there is also one of the most beautiful shows we've seen. The Wider Earth has been set within the Natural History Museum and is running until 24 February 2019. It is the story of Charles Darwin's adventure on HMS Beagle. Aged at 8 years and over, this isn't only a show for children it is for adults too. This is the story behind one of the most important discoveries in history. Enjoy the playful fun with the puppets Darwin discovers from the Iguana to the armadillo. It's the most delightful enjoyable production.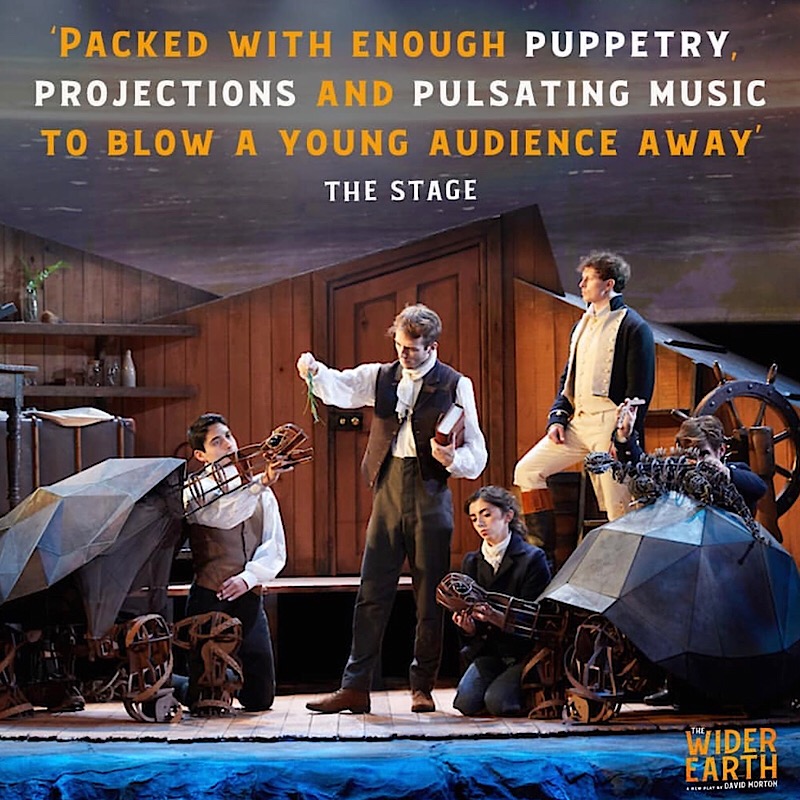 Our third choice of course involves a little light sparkle.
Christmas at Kew is a winner we know that. This year London Zoo has a light trail. You don't see the animals, they have of course gone to bed, but what fun to see the zoo by night lit up with Christmas cheer – we love this idea for something a little different.
https://www.zsl.org/zsl-london-zoo/whats-on/christmas-at-zsl-london-zoo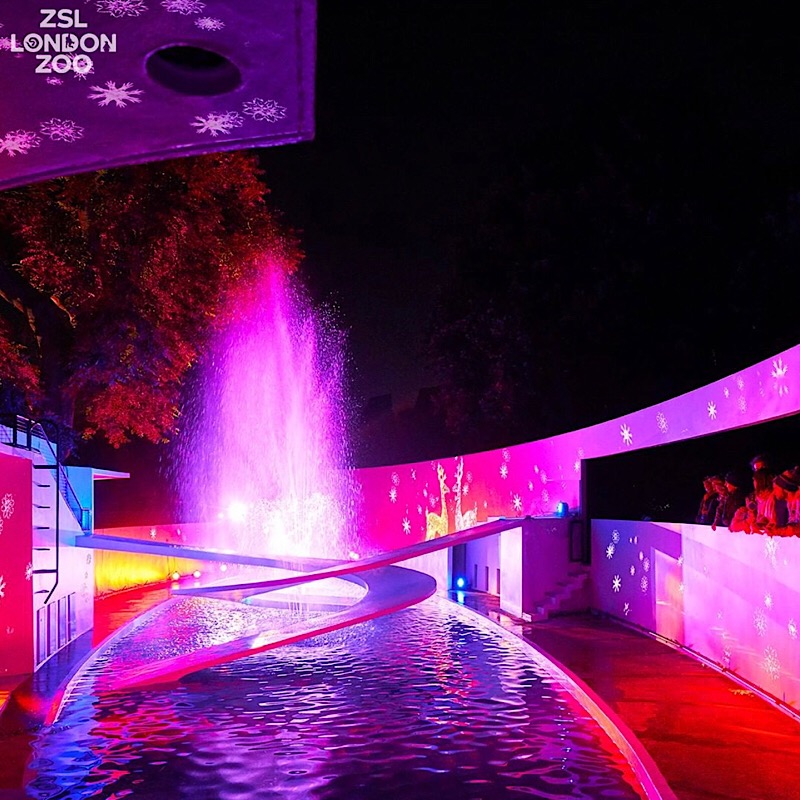 Finally, a Day Out in London this Christmas:
There is no better place to discover than Christmas in Greenwich. Take the MBNA boat from Embankment door to door you arrive at Greenwich Old Royal Naval College. There is a Winter Town Festival this year, a Christmas market, Ice skating, and of course, Father Christmas. Greenwich is one of London's most beautiful destinations, and there can be no better time to visit than at Christmas time. If you time your journey home carefully, you will catch London by night all the way home – especially as you go under Tower Bridge. It is quite spectacular.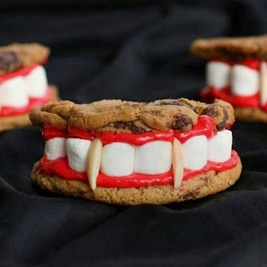 Halloween
We love a Halloween party at Papouelli. It is a time of year our children have always loved. Since opening our store in Parsons Green, we have been holding a Trick or Treat event. This year is no different, so come if you dare between 5-7pm on 31st October.
About Halloween, we have found a fabulous easy recipe for Halloween that is literally as easy peasy as 1, 2, 3… and so much fun to do with little ones.
Anyone for Dracula's Dentures?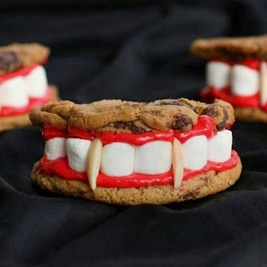 Ingredients:
6 large cookies ( we love Ben's Cookies)
1 packet of marshmallows
1 bottle of red dye
1 tub of Betty Crocker icing
sliced almonds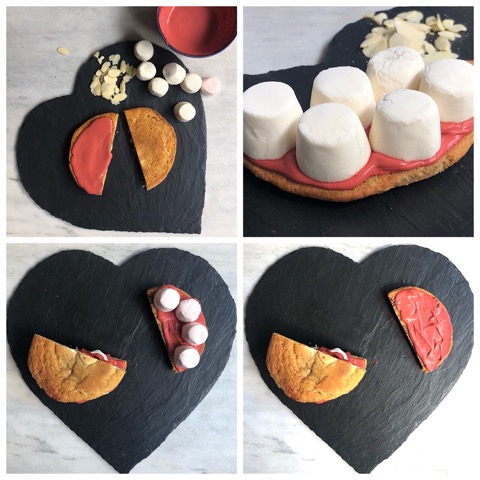 How to put it together:
Mix the colour dye into the icing and put aside.
Cut the cookies in half and layer a thin amount of coloured icing over the bottom.
Fill the outside of the cookies with marshmallows.
Put last layer of icing on the top of the marshmallows.
Top with the 2nd half of the cookie.
Add your sliced almonds or a slice of apple for the fangs
…. and you are done!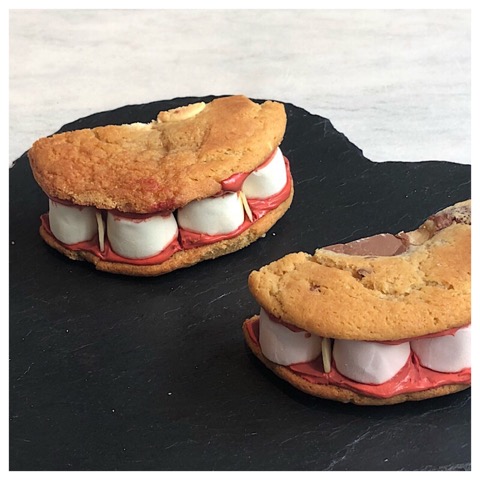 Happy Halloween from all at Papouelli x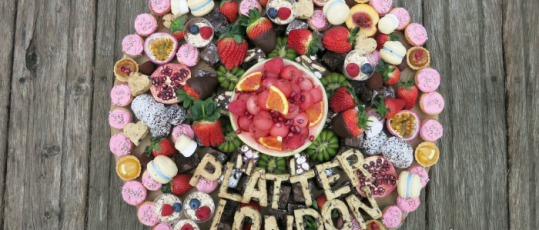 Planning a child's party, there's so much to think about. Invites, venue, catering, gift bags, who to invite… And of course, the challenge of organising something the children will love away from the 'same old thing'. Whether you're planning their next birthday or want to hold an end-of-school celebration, here's who we recommend to help you hold an amazing children's party: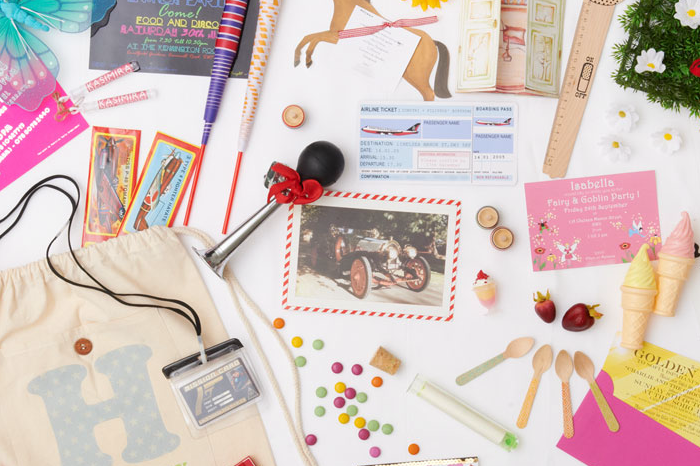 Kasimira
For the best bespoke party organiser, choose Kasimira. This Central London event planning team are experts in making the impossible happen for both grown-up and little party attendees – with lots of themes up their sleeves and the skills to create a party to match your child's interests. Highly recommended.
Spun Candy
For those with a sweet tooth, take a look at Spun Candy. They offer unique candy making parties for ages 6 plus, where party goers can design, mix, add flavours, roll and hand make their very own sweets.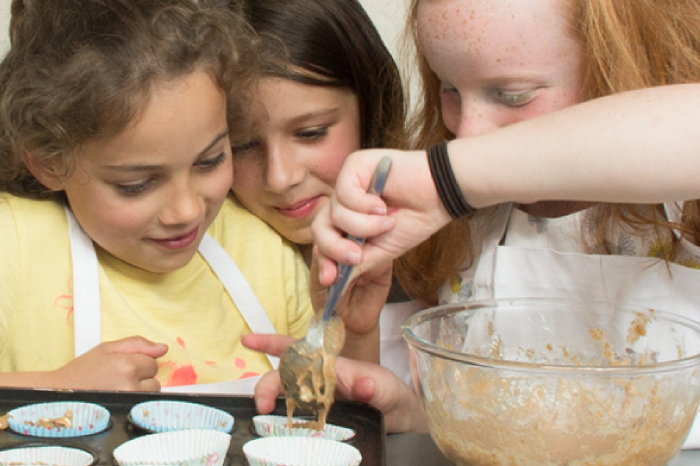 Cookie Crumbles
Another one for young cooking enthusiasts, come and take part in a Cookie Crumbles cooking party where children from 4 up are encouraged to squidge and squash, sniff and taste, experiment and decorate! Cookie Crumbles will come to your home (or a venue of your choice) and provide everything you need, always leaving the kitchen lovely and tidy after too.
Let them get messy and loud with a science party full of mad experiments and crazy discoveries. Sublime Science were Dragon's Den winners and are known for their hands-on events where everything is taken care of and children have fun while learning in the process. You know a party's been a success when they want to go home and share every little detail; Sublime Science promises to get them talking.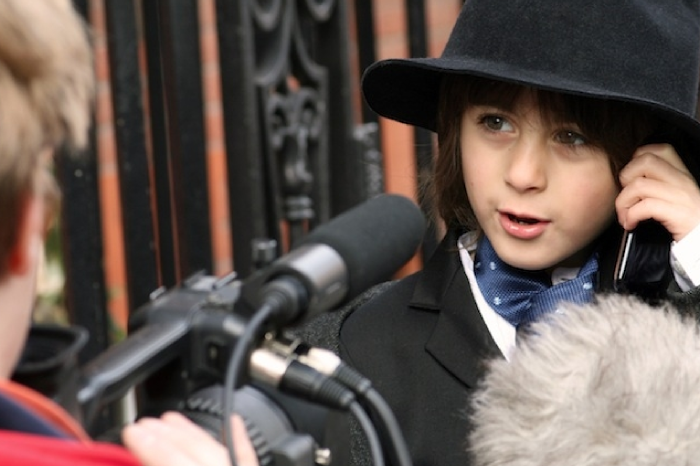 Young Film Academy
Treat them like a star at their next party with a party experience from the Young Film Academy. Children age 5 plus can pick from packages including: Movie Star day, Green Screen experience and Movie Making. They'll use professional film equipment, learn real filmmaking techniques and come away with a masterpiece they'll be excited to show off.
For another unique party experience, how about a survival day designed by Bear Grylls himself. This package includes shelter building, learning the basics of camouflage and concealment, a real survival lesson and a wilderness lunch they'll be talking about for days (expect mealworms!).
Embrace the pure joy of childhood by letting them climb trees with friends. The Big Tree Climbing company provides completely safe big-tree climbing sessions for ages 6 plus. Not only are these parties fun and unique, they're great for building confidence, strengthening friendships, and fostering a love of the great outdoors.
As they get older, a party can be a lovely opportunity to give our children once in a lifetime opportunities. How about challenging them to show off their circus skills with the National Circus? A National Circus party involves learning how to use a trapeze and having a try at tightrope walking. They do adult circus parties too if you want to give it a try yourself!
Do-it-yourself in style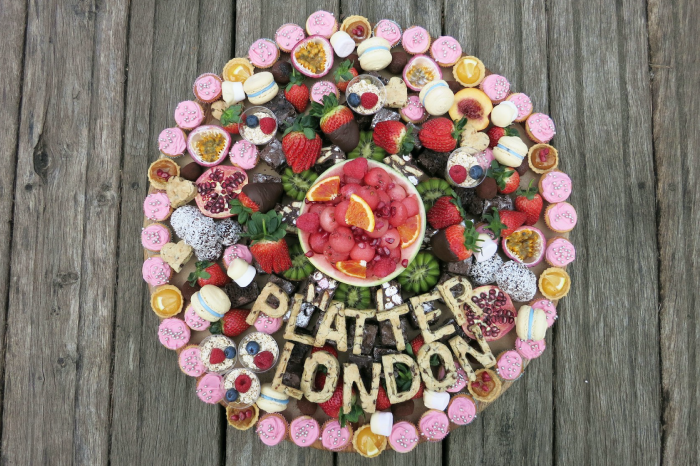 If you're bringing all the party elements together yourself, then we'd suggest taking a look at Party Pieces who have a wealth of gorgeous party supplies to pick from: balloons, decor, party games, catering supplies – the lot. Their personalised party banners are fun too.
For dressing up fun, Atelier Spatz take children's costumes to the next level. Perfect for adding a role play element to their themed party. And when it comes to party food, have a look at Platter London. This unique new business offer the most stunning food platters for any occasions and age range – from healthy fruit plates to delicious cupcake and biscuit arrangements. Incredible!
Do you enjoy party planning? Or do you prefer to hire a helping hand to make it as memorable as possible? Let us know over on social media, we'd love to get your thoughts.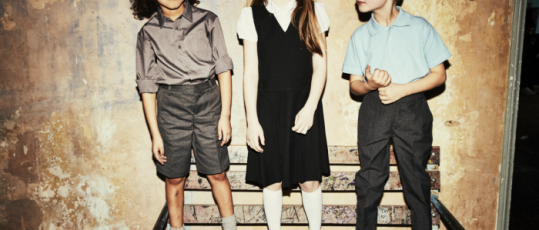 A new school year brings with it much excitement. New beginnings, new adventures, and new school shoes! Here's a look at how to embrace a smart start to new school year with the help of Papouelli:
A shoe for every child
Their school shoes are one of the most important elements of their school uniform. Worn all day, a comfortable well fitted pair of school shoes is worth investing it. At Papouelli, we want children to not only be comfortable, but to feel proud putting on their shoes each morning. And that parents will be happy to see their children running about in them. Our elegant and traditional designs have been made to pass school regulations yet look gorgeous!
Lots of choice and colours
Black isn't the only formal choice. We also offer navy and brown leather designs to match their school colours. Take your pick from slip-on loafers, lace-up brogues, pumps, velcros and classic Mary Janes – we have a wide range of boys, girls and unisex shoes to preserve a sense of childhood sweetness.
Bigger sizes
As we came to fit our own children through the school years, we found it started to get tricky to find beautiful childrens shoes in large sizes, and adult shoes aren't cut to support a growing child's foot. We stock bigger school sizes (38-45) to help those older children who still need a practical school shoe, so you can trust they'll grow in comfort and style.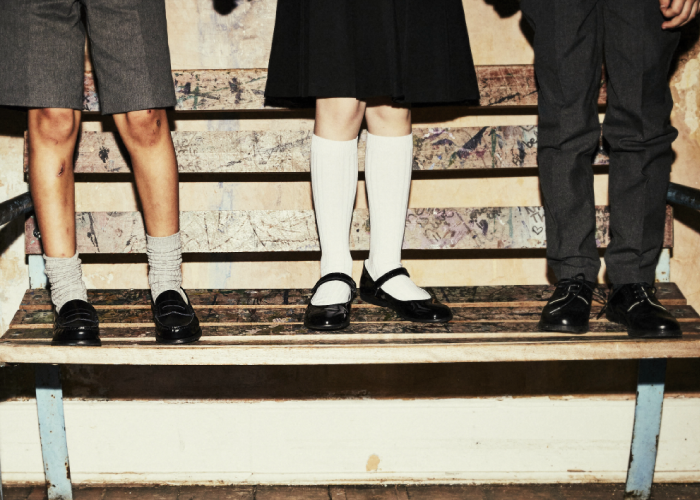 Easy fitting
We make getting your children's shoes fitted as easy as possible. You can come in store and have one of our friendly professional fitters do it for you or look at our online fitting guide and measure their feet from the comfort of home. Meaning, if you've had our styles before and know what suits your child, ordering online couldn't be easier.
Make them last longer with a fit and polish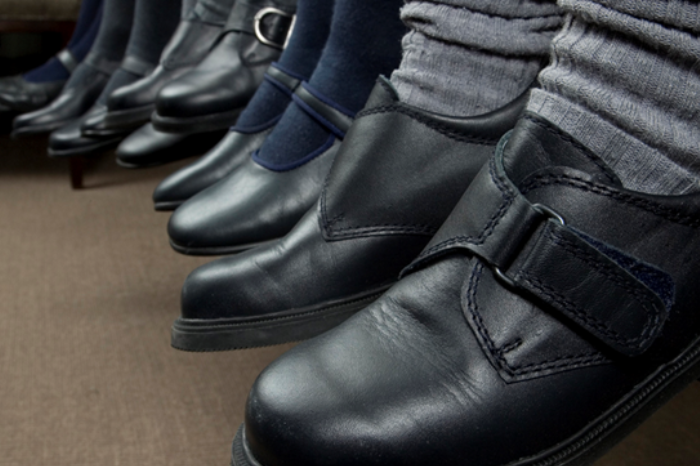 Not sure whether they need a new pair of school shoes yet? Come in store and have a fit and polish with us. We'll check their current school shoes and give them a polish to bring them back to their best. If they are on the tight size, we'll advise you on when to come back to buy leaving time to grow over the summer. All our staff at Papouelli have a certificate from the National Society of shoe fitters, meaning they know exactly what they're doing.
A sporty option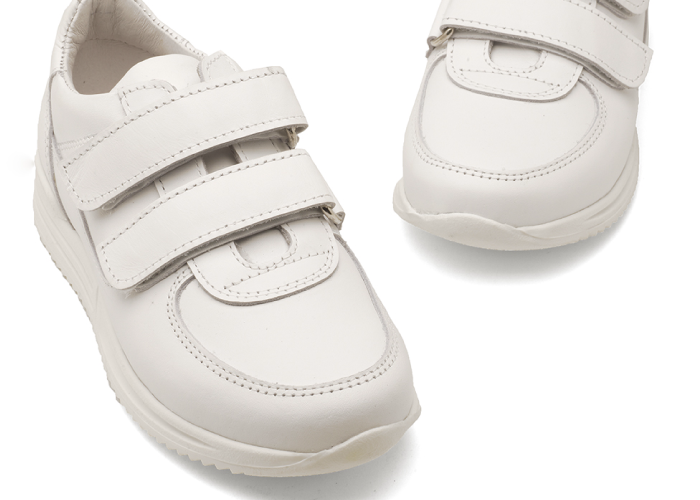 See our Speedy Trainer now
We know schools often ask for children to wear white trainers for their sporting activities – which aren't always easy to find! It's why we created the Speedy Trainer which is a perfectly gleaming plain white sports shoe. No fuss, no coloured trims, no logos… a simple, comfortable plain white trainer especially for school wear. You can tick that one of the uniform list right away.
Accessories fit for the playground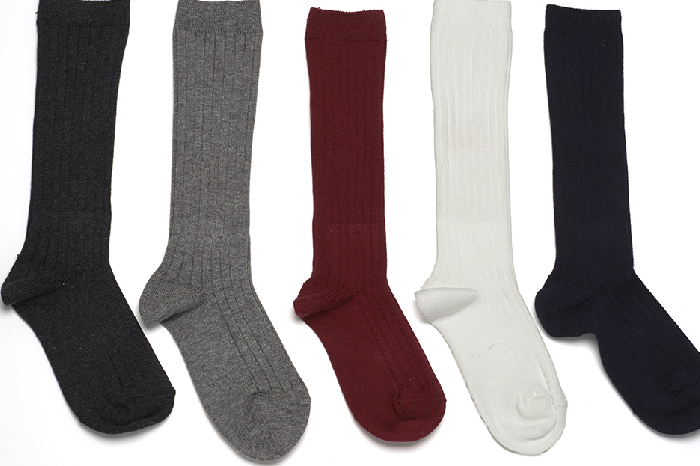 Looking for warm and cosy extras to see them through the Autumn term? We offer a range of quality knee and ankle socks and tights, in colours to go with all uniforms. Made from the best cotton lycra mix to make them super comfortable – and they wash like a dream too!
Papouelli also stock a selection of elegant school-approved hats, gloves and scarves to keep them smart and warm. Available in a classic plain grey.
Smart from head to toe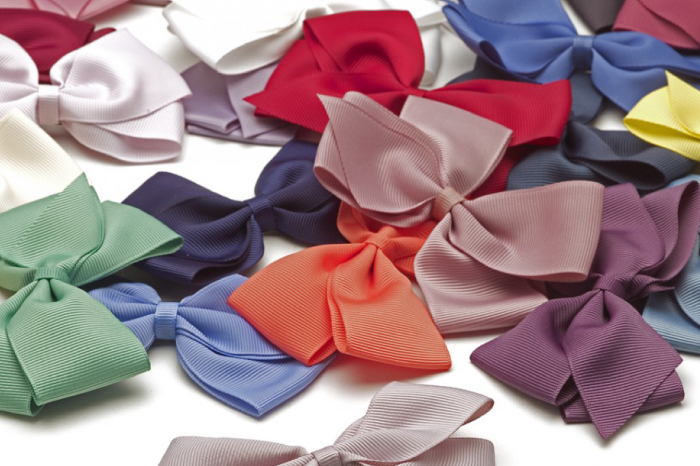 Finally, don't forget our finishing touches like girl's hair ties, bows and Alice bands. We have a range of sweet accessories to keep them looking 'together' – available in a variety of school colours. Of course, how they look at the start and end of the day is usually quite different!
Give them their best start. Get them back to school and back to Papouelli this autumn.